Here's a quick hcg diet phase 2 approved dessert (unlike the calorie and sugar rich brownies my wife made for our party this evening).  It's only 70 calories and counts as 1 fruit serving for the day.  My sweet tooth was satisfied and the stevia used as an all natural sweetener stuck around as a very nice after taste for at least half an hour.
This recipe rocked!  Best thing is that it took me about 2 minutes of food prep and about 12 minutes in the oven.  The only thing to clean up while the apple crisps are cooking is a knife and a cutting board!  It's so easy.  That's just the way I like it.  Check it out…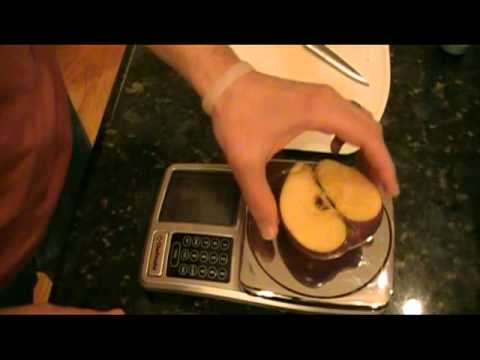 I felt almost like I had indulged, except without the guilty conscious!  Not only was it satisfying but having something sweet totally helped me resist the cravings for sweets that was helped along by my amazingly beautiful wife.  She made brownies with frosting for a social function we hosted at our house tonight and just shooting the video my mouth started watering and my brain started contemplating taking a bite.  For me though it's far more gratifying exercising self control and discipline so I can stay on track and accomplish my weight loss and measurements goals.  I hope you enjoyed the video… but more importantly I hope you enjoy the dessert!
Here's the recipe:
Awesome Apple Crisps -
1 apple (~70 calories)


Dash of cinnamon

Stevia to taste


Directions:

Slice apples thinly, coat with stevia and cinnamon.  Place in a dehydrator or bake at 325 until chewy and a little crispy.
I'm really enjoying my hcg diet journey. I hope tracking it and recording it in video here on my blog posts provide value to you as in some way. Leave me your comments, questions, and feedback. I appreciate your support. It helps keeps me accountable. Remember – get inspired and take action in your own life as well!
InspirACTION Is More Than A Tagline; It's A Lifestyle – A State of Mind! So Get Inspired & Take The Challenge! Find Out How…
To Your Success,