I'm on my 14th day of phase 2 of the hCG diet.  This is the first ever time I've done any diet, much less a VLCD diet (Very Low Calorie Diet).  I'm learning the do's and don't of the hcg diet just about the only way I know how… EXPERIENCE!  Here's a few thoughts on watching calories and making dressings while on the hcg diet: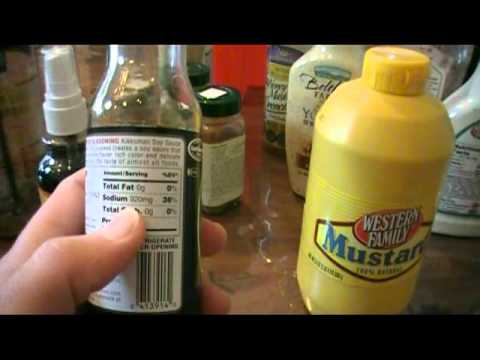 So let's be honest here.  If you're on the diet or thinking about doing the diet, one thing you have to admit is that the protocol on phase 2 is pretty strict and that the approved foods are pretty slim!  With that being said there's only so many times you can eat steak, chicken, shrimp or tuna the same way without getting pretty worn out – twice a day mind you!  So what's the solution?
Getting creative with the food preparation is the answer!  One of the easiest ways I've found to give it a bit of variety is to make a zero calorie dressing for my food.  It gives it a great flavor and breaks up the monotony of eating a limited selection of foods over and over again.  It also keeps me motivated and looking forward to the next meal instead of thinking "How can I do this another flippin' day?"
So next time you want some variety on the hcg diet phase 2, look at making a yummy dressing.
I'm really enjoying my hcg diet journey. I hope tracking it and recording it in video here on my blog posts provide value to you as in some way. Leave me your comments, questions, and feedback. I appreciate your support. It helps keeps me accountable. Remember – get inspired and take action in your own life as well!
InspirACTION Is More Than A Tagline; It's A Lifestyle – A State of Mind! So Get Inspired & Take The Challenge! Find Out How…
To Your Success,